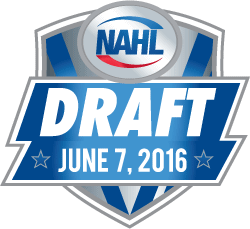 Five BCHL players were selected in the 2015 North American Hockey League Draft on Tuesday.
19-year-old forward Jared Domin from Cowichan was the highest BCHL player selected in this year's NAHL Draft when the Shreveport Mudbugs grabbed him with the second overall pick in the first round. The left winger from Grand Rapids, Michigan had an excellent rookie season for the Caps, scoring 39 points (16-23-39) in 53 games. He played two games with the NAHL's Aberdeen Wings as an affiliate player in 2014-15.
Forward Donovan Ott of the Surrey Eagles was the second BCHL player chosen, by the Johnstown Chiefs with the 27th overall pick. Ott, who's from Lebanon, Pennsylvania, completed his rookie season with the Eagles in 2015-16 and posted 18 points (10-8-18) in 46 games. If he elects to join the Chiefs, it would be his second stint in the NAHL as he played with Wenatchee in 2014-15, prior to the Wild joining the BCHL. Ott is committed to Cornell University for this September.
Forward August Von Ungern-Sternberg of the Wenatchee Wild was the second BCHL player selected, going to the Odessa Jackalopes with the 115th overall pick. Von Ungern-Sternberg played his first season in the BCHL in 2015-16 after moving over to the league with the Wenatchee Wild. He notched 42 points (18-24-42) in 57 games this past season. He played in the NAHL with the Wild in 2014-15. The Boise, Idaho native also played 19 games in the USHL with Lincoln in 2014-15.
Surrey Eagles forward Gage Mackie heard his name called by the Aberdeen Wings in the 6th round, 126th overall. The 18-year-old from Anchorage, Alaska had 17 points (9-8-17) in 54 games during his rookie season with the Eagles in 2015-16. Mackie is slated to attend Arizona State University in the fall of 2017.
Rounding out the BCHL selections, Vernon Vipers forward Christian Cakebread was selected in the 11th round, 242nd overall by the Shreveport Mudbugs. The Gilbert, Arizona native had a solid first BCHL season, posting 30 points (12-18-30) in 35 games for the Vipers. The veteran of 90 USHL games is committed to the University of North Dakota for this fall.
2016 NAHL Draft, BCHL Players
1st Round
#2. Shreveport Mudbugs - Jared Domin; Grand Rapids, MI; Cowichan Capitals
2nd Round
#27. Johnstown Chiefs – Donovan Ott; Lebanon, PA; Surrey Eagles
#115. Odessa Jackalopes - August Von Ungern-Sternberg; Boise, ID; Wenatchee Wild
#126. Aberdeen Wings - Gage Mackie; Anchorage, AK; Surrey Eagles
#242. Shreveport Mudbugs - Christian Cakebread; Gilbert, AZ; Vernon Vipers